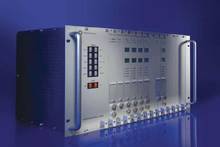 Multi-Channel Machine Monitors
With the programmable monitoring modules, the measurement values are continuously acquired from which the characteristic values processed, digitally displayed, compared to pre-set limit values and, if the case arises, alarms are issued accordingly.
From the consequential use of microprocessor technology, VIBROCONTROL 4000™ possesses a number of particular characteristics:
High capability, high flexibility and simple adaptation to different monitoring tasks
Software configuration of the monitoring modules with a palmtop, laptop, notebook or PC
Reduced number of components as compared to analogue monitoring systems. This increases the MTBF time ("mean time before failure") and increases the operating security
Direct communications compatibility with host process control systems via standardized data-bus interfaces (Profibus and Modbus)
Apart from the conventional limit value monitoring, trend monitoring to recognize rapid measurement value changes (e.g. turbine blade breakage) is available
2 channel design for all monitoring modules with 4 software allocated limit value relays and an additional OK relay
Additional protection measures to suppress external interference of the monitoring modules. Apart from the OK fault recognition, the alarm response delay, the trip multiplier, the power supply failure bridging and the power-on protective switch, the VIBROCONTROL 4000™ firstly performs a watchdog function to determine the cyclic operation of the firmware, the memory resident storage of all parameters/settings and the automatic RAM and ROM tests.
When combined with Vibroexpert CM-400 software, the VC-4000 with the single-channel analysis module C421, can perform more advanced vibration analysis such as FFT, Time Waveform and Harmonics for complete predictive maintenance.